As one of the westernmost travel destinations along the silk road, decide what to pack is quite significant, especially when you decided to travel to the largest region in China.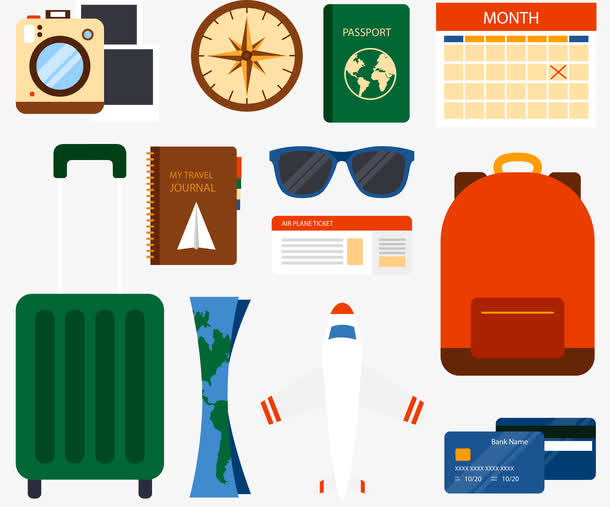 However, Xinjiang is not a place with unbearably bad weather which you might have probably concerned about it before, rather, most of the time in Xinjiang is fine with a comfortable temperature and fresh air. So, you don't have to pack too many things, better not to exceed the luggage weight that the airline specifies.

What to pack for your Xinjiang Tour?
Just follow our ultimate packing list below to make sure you prepare the must-have things in advance and ensure you a worry-free tour in Xinjiang.
Tips: Normally, you are allowed to carry one bag with the baggage allowance no more than 20 kilogram/44 pounds and two carry-on bags with each weighing up to 5 kilogram/ 11 pounds for the airlines in China
1. The Basic Packing Items/ Must-have Items for a Xinjiang Tour:
Identifications:
Passport and Chinese Visa: Never forget your original passport and Chinese Visa. Besides, firmly recommend to back up your passport and visa in digital forms or print more copies for some emergency uses.
Bank Cards and Cash: Cash can be withdrawn everywhere in Xinjiang, but it's better to prepare some in advance.
Clothing, Shoes and Bags
T-shirts: 3-4 short sleeves and long sleeves to cope with the daily changing temperature;
Sweaters: 2-3 sweaters are recommended, for layers of them can be much warmer and easy to be taken off when the temperature bounces back to a higher level (For staying overnight outdoor at a comparatively higher elevation, make one of them thick);  

Thick down jacket or insulated jacket: A down jacket or an insulated jacket is indispensable when you take a winter tour during November, December, January and February.
Underclothing: Preparing 4-5 quick-dry and breathable underclothing makes your tour much comfortable;
Sports footwear or climbing shoes: A comfortable and durable pair of sports shoes can do the trick in most of the occasions. Besides, a comfortable climbing shoes with suitable size for your feet is also recommended if you plan to take a trek tour or travel to some remote areas.
Breathable socks: Prepare 4-5 pairs of socks to make your feet more comfortable while walking.

One backpack and no more than two small bags: Choose a high-quality comfortable backpack with the total capacity no more than 50L. Meanwhile, you can fill the smaller ones with digital devices including your notebook and camera;

Personal Hygiene:
Toiletries: wet wipes, deodorant and hand sanitizer (soaps are provided by most hotels) are recommended items you need to pack in advance.
Photo Gears:
Camera, video camera or phone: Don't forget to put a camera into your bag and document the stunning beauty of Xinjiang.
2. What are Our Recommended Items for a Xinjiang Tour:
Moisture and sunscreen: Due to the intense sunshine and dry weather in some areas of Xinjiang, moisture and sunscreen can effectively keep you from UV radiation and the sunburnt.
Sunhat and sunglasses: No matter what kind of tour you take, Sunhat and sunglass are the necessary items to keep you from sunburnt.
Tripod: To get a satisfactory photo or shoot the starry night, you need to prepare a light but steady tripod which can be fixed firmly.
Standby batteries: Ensure the constant power supply for your digital equipment;
Camera memory cards: An extra memory card leaves you much room for documenting Xinjiang sceneries.
Phone international roaming service: Get your phone international roaming enabled if necessary. If you want to share anything of your tour in Tibet simultaneously with your family or friends, you are recommended to do so. (Wifi is available in most accommodations)
Snacks: Pack some snacks or buy some local snack foods or fruits on the way to make your journey more enjoyable.
Conclusions:
In conclusion, the lighter you travel, the better your journey will be. Our picking suggestions for the Tibet travel are summarized as follows:
1. Try not to make your luggage exceed the baggage weight limit which is regulated by the airlines.
Officially, the baggage allowance should be no more than 20 kilogram/44 pounds and two carry-on bags with each weighing up to 5 kilogram/ 11 pounds
2. Basic packing items are the must-have items you need to pack in advance no matter wherever you travel in Tibet.
Paper and digital copies of Passport, Chinese Visa and so on.
3. Recommended items are things we firmly recommend you to take during your Tibet tour.
Moisture and sunscreen, Sunhat and sunglasses, Tripod, Standby batteries, Camera memory cards, Phone international roaming service, Medicines.
If you still have any questions about what to pack for your Tibet tour, please don't hesitate to drop us a line underneath for the detailed information.