Trains in Xinjiang
In Urumqi, there are 2 train stations delivering high speed bullet trains to/off Urumqi, including the Urumqi Railway Station(new station) and Urumqi South Railway Station. They both are frequently-used train station in Urumqi. Constructed as the biggest railway terminus of Urumqi, the new Urumqi Railway Station is located in No.1, Gaotiebeiliu Road, Economic and Technological Development Zone. And the old Urumqi South Railway Station is located in No.135, Nanzhan Road, Shayibake District.
Urumqi is the capital city as well as the transport hub in Xinjiang Uygur Autonomous Region. It used to play a very important linking role on the Ancient Silk Road during China's Tang Dynasty. Nowadays, travelers can explore on the Silk Road by high speed train on Lanzhou-Xinjiang High Speed Rail.
Route of High Speed Trains from Urumqi
As the capital city of Xinjiang Uygur Autonomous Region, Bullet trains are available from Urumqi to Turpan , Hami, Jiayuguan , Zhangye , Xining , Lanzhou and more destinations in Northwestern China.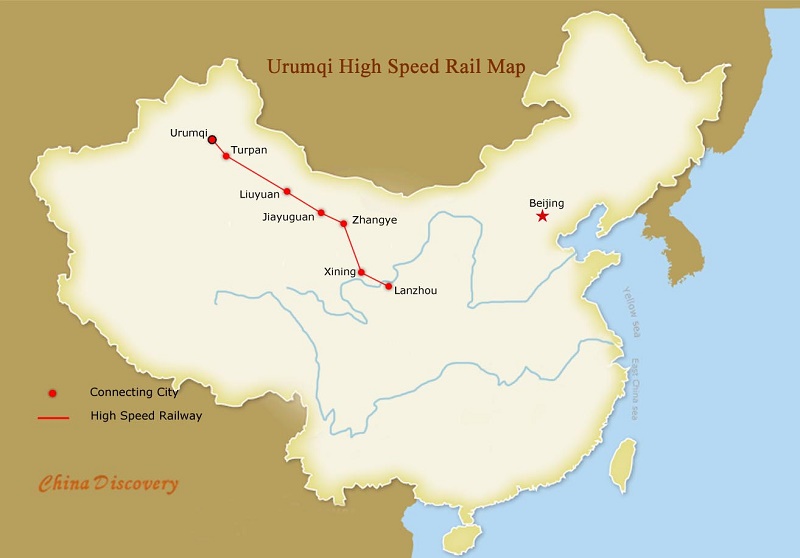 Popular High Speed Train Routes
1. Urumqi-Lanzhou High Speed Train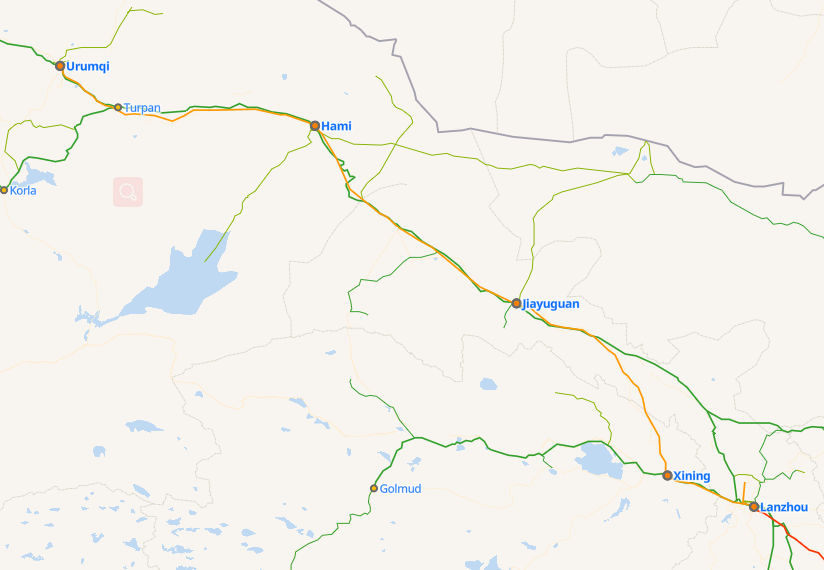 Railway Stations: Urumqi - Lanzhou, Lanzhou West
Distance: about 1777km (1104 miles)
Duration: 11 hours 45 minutes ~ 12 hours 38 minutes
Since the opening of Lanzhou Urumqi High Speed Rail, which is also called Lanxin (Lanzhou - Xinjiang) High Speed Rail or modern "steel silk road", a sharp growing number of travelers starts their exploration along Ancient Silk Road by Bullet Trains. High Speed Trains along the rail make stopover at most of the tourist wonders in Gansu Province and Xinjiang Province, including Jiayuguan (where the greatest, oldest and most legendary Jiayuguan Pass located in), Zhangye (the most beautiful Danxia landforms), etc.
Generally, there are 4 pairs of daily D-trains traveling between Lanzhou and Urumqi. The High Speed Trains traveling from Lanzhou to Urumqi are available from 07:50am to 10:40am, while the Urumqi Lanzhou trains are available from early 8:40am to 11:45am.
(相应的行程线路)
2. Urumqi Dunhuang High Speed Train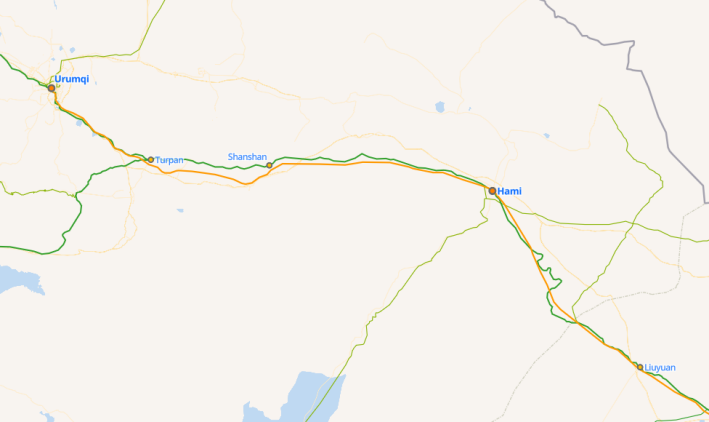 Railway Stations: Urumqi - Liuyuan South
Distance: about 791km (491.5 miles)
Duration: 4 hours 26 minutes ~ 4 hours 41 minutes
Liuyuan South Railway Station is the nearest bullet railway station to Dunhuang - the Oriental Buddha Park of ancient grottoes, exquisite mural paintings and statues of Buddha. Currently, there are 4 morning D-trains connecting Urumqi and Liuyuan South Railway Station. After a brief stay at Liuyuan South Railway Station, those trains travel to Jiayuguan, Zhangye, Xining and finally end at Lanzhou. The Liuyuan South Railway Station is located about 2.5 hours' drving to Mogao Caves in Dunhuang.
Suggested Itinerary

3. Urumqi Turpan High Speed Train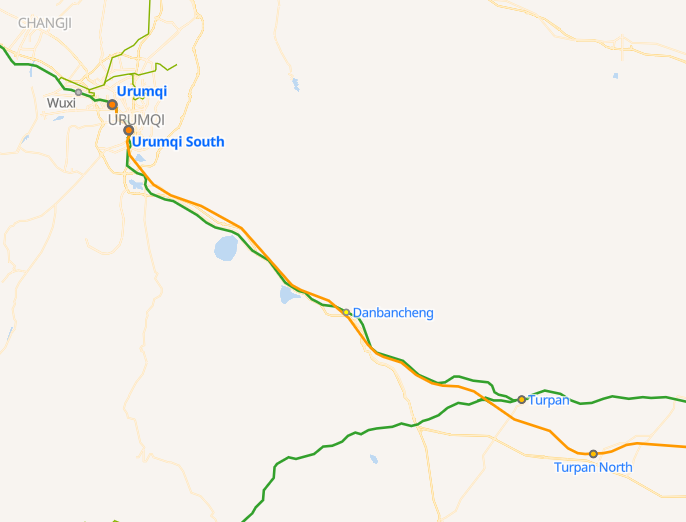 Railway Stations: Urumqi - Turpan North
Distance: about 446km (277 miles)
Duration: 58 minutes ~ 1 hour 23 minutes
Turpan is located in the central part of Xinjiang Uyghur Autonomous Region. At present, more than 10 high speed trains are running from Urumqi Railway Station to Turpan North Railway Station which takes only about 1 hour. The daily High Speed Trains traveling from Urumqi to Turpan are available from 08:04am to 20:37pm. Thus about every 1 hour, there is a high speed train available.
More High Speed Trains from Urumqi
Till the end of August 2018, the direct high speed bullet trains traveling from Urumqi can only reach as far as to Lanzhou, but there are extended high speed trains departing from Lanzhou to Xian (about 3 hours), to Beijing (for 8.5~9 hours), to Shanghai (nearly 11 hours), to Chongqing (7~7.5 hours), etc.
Interested in exploring on ancient Silk Road with the important destinations, including Zhangye, Jiayuguan, Turpan, Urumqi? Want to move around the northwest China by high speed train? If you say yes, please contact our professional travel consultants without any doubt. They are here ready to help you customize your China Silk Road Tour by High Speed Train that you just need to tell your ideas and requirement and they will make everything for you, including high speed train tickets, private transfer service, accommodation and other detailed tour arrangement.