The grassland of Xinjiang is not only Narati in Ili and Bayinbuluk in Bayangol Mongol Autonomous Prefecture, but the beauty of Jiangbrak grassland is more attractive and unforgettable, especially The scenery of herds of sheep and cows were scattered over the grassland, it will never be forgotten in my life.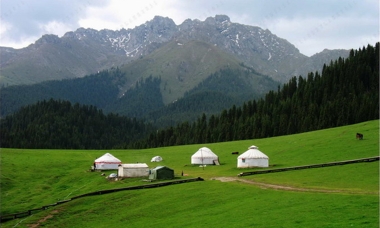 In Kazakh Jiangbrak means "the source of holy water". It is located on the south of Qitai County. and it is a beautiful natural scenic spot composed of grasslands, forests and snow mountains which is a good place to enjoy the splendid grassland scenery.
In Jiangburak grassland, we are mainly see the beautiful natural scenery. There are grasslands surrounded by snow mountains, beautiful wooden trestle road as well as vast fields plus a pastoral landscape, the best time to travel to Jiangburak is from May to August.
Every May to July, the wild flowers will grow all over the hills , which is a good time to take photos.
In August, the golden wheat and the distant snow mountains shine together, rendering the earth as a golden colour. The white houses, wooden houses, flocks, herds plus the horses and Kazakh boys on horseback in the distance, the wild mushrooms growing in the jungle, all of which can not describe the beauty of Jiangbrake.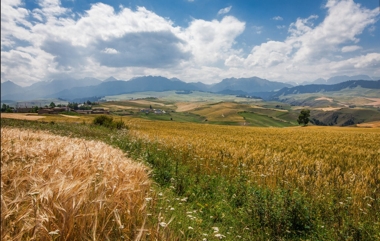 In addition, ski resorts will be set up every winter, so it is a good place for winter sports enthusiasts.
There was also a magical place in Jiangburak, and it is a strange slope, which looks like an uphill slope, but it is wonderful to pour water upstream instead of downstream as usual.
When you travel to Jiangburak, you can experience the traditional Kazakh life styles and taste roasted whole lamb, drink milk tea, listen to Kazakh herdsmen singing,and you can also carry a small basket to the forest to collect some mushrooms, and sing in the peaceful valley.
Jiangbulak will bring you different surprises in each season. The autumn scenic area is mainly the scenery of wheat fields. The wheat has been harvested at the end of September. There are golden stubbles in the acres of wheat fields. The golden yellow wheat fields above will be dotted with some quaint big trees. The green fields and mountains behind the wheat fields make the mountains colorful and colorful, and the scenery is spectacular.
If there is plenty of time, it is best to live in the scenic area for 1-2 days. In September, there are few people in the scenic area. You can carefully watch the scenery of various scenic spots in the scenic area, you can take the sunrise and sunset scenery, and you can climb along the boardwalk Climbing the mountain and relaxing in the beautiful scenery and natural oxygen bar will be very pleasant. If you drive into the scenic area by yourself, you don't need to buy the shuttle bus, that you can pay 100yuan for the car to drive into the park.