Timing of travelling may greatly influence your travel experience and the actual costs. Especially for places like Xinjiang, whose travelling period is short from May to October.

Kanas means "beautiful and rich, mysterious and unpredictable" in Mongolian, and it is appropriate to name the land "Kanas". Kanas is a famous tourist attraction in Xinjiang. In autumn, it is red, yellow and green, forming a colorful picture. In fact, besides autumn, Kanas has many other seasons.
The best time to travel in Kanas is in June and September. By October, Kanas will normally close the mountains (until May next year) and only sledges will be able to enter. But since 2007, Kanas has launched a winter tourism project (October 10-May 10, the following year), which not only exempts some tickets, but also takes a special transportation vehicle, horse sled, to fully experience the "thousands of mountain birds fly, thousands of tracks disappear" in the quiet valley.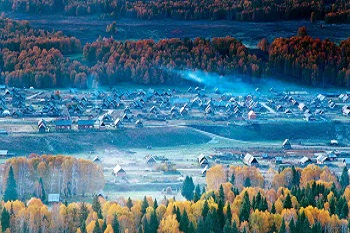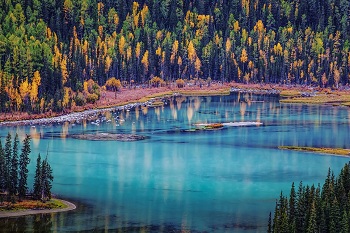 In June, Kanas begins to enter the spring, with green grass, mountain flowers, red peony and willow-orchid safflower everywhere, golden lotus, tulip and hyacinth, delphinium, iris, lark, forget-me-not blue and glorious, tall wind-proof and wild carrot umbrella-shaped flowers, like white clouds floating in the air. It's the ocean of flowers, the world of flowers. Colorful wildflowers, together with blue sky and white clouds, snow peaks and clear water, wooden house and jungle, constitute the story of Kanas spring.
From late June to early July, Kanas in this season is green, full of green eyes, beautiful mountains and flowers, all kinds of unnamed mountains and flowers are blooming, really like being in a fairyland, let you linger and forget to return.
July and August are the most beautiful time for Kanas Lake. Because the upstream of Kanas Lake overflowed, and on sunny day the lake showed a cream blue, very attractive colour. The average temperature in July is only 15.9 degrees Celsius, the average maximum temperature is 18.8 degrees Celsius, the average minimum temperature is 2.8 degrees Celsius, the humidity is moderate, the air is fresh, very suitable for summer tourism.
As soon as September came, Kanas entered the season of pure gold. On the deep green hillside, there are yellow branches, red leaves and green mountains connected with snow. Birch, Korean pine, fir and other trees along the lake will be golden, orange-red, dark-green and other cross-colors, which will set off the dazzling snow on the top of the mountain, reflecting on the jadeite-like Kanas Lake. It is intoxicating.
The scenic spot becomes colorful and layered, and the grass is also the most beautiful season. Kanas in this season is like oil paintings and scenery everywhere! Kanas in autumn, she is always fascinated by the golden yellow shine, gorgeous and colorful. When you come to Kanas in September, you can deeply feel Mao Zedong's 1925 in Kanas. In his well-known "Qinyuan Spring. Changsha", the word "dyeing" used to describe the autumn scenery of mountains and forests is so appropriate and amazing. Because birch leaves are only three weeks old from yellowing to withering, many Chinese fans gather here every season. This is also the best time for photography.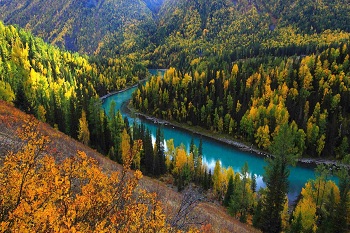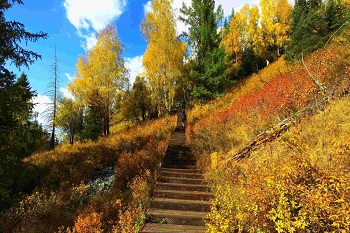 Kanas has a late spring. The best time to travel is between June 10 and October 7. The best time for this period should be the Kanas autumn scenery from mid-September to the end of September. The number and color of Kanas scenic spots are different. It is really the back garden of God. In short, the best time to travel in Kanas should be in June's Huahai and September's golden autumn. The average annual temperature in Kanas is only 4 Celsius, and the average monthly temperature is - 24 Celsius. Even if you go in summer, you should prepare some warm clothes. By October, Kanas will generally close the mountains, and only sledges can enter. Since 2007, Kanas has launched a winter tourism project, which not only exempts some tickets, but also takes a special transportation vehicle, the horse-drawn sled.
In the peak season of Kanas, it is suggested that friends who are going to visit Kanas should book their houses in advance.