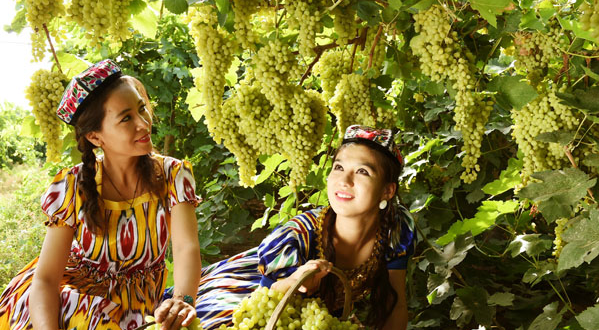 Xinjiang is reputed as the home of the melons and fruit. It is a local saying for praising the fruits and melons that Xinjiang produces that Turpan's grapes, Shanshan's melons, Korla's fragrant pears, Kucha's apricots, Yecheng's pomegranates, Atushi's figs, Hotan's walnuts, Yining's apples and Hami's dates, have enjoyed high reputation far and wide.
Xinjiang is blessed with plentiful sunshine, a long frost-free season and significant differences between day-time and nighttime temperatures and a favorite condition to grow fruit and melon. Xinjiang abounds in numerous species of fruits and is especially famous for its water melons and Hami melons. Xinjiang water melons are large in size, tasty and sweet. In summer and autumn, the sweet and juicy water melons are supplied almost every where. There are summer melon and winter melon in Xinjiang. Owing to its thick rind, the winter melon is likely to be enjoyed in the freezing winter, for it can be preserved through winter time. Both south Xinjiang and North Xinjiang produce muskmelons with high quality, such as Jiashi, Meget, Pishan, Yutian in south Xinjiang and Xiayedi, Jinghe, Wujiaqu in north Xinjiang, of which Shanshan's muskmelons are praised the "king of melons". in ancient times, they were sent to the emperors as tributes. It is said that the Emperor Kangxi of the Qing Dynasty (1644-1911) praised the fruit greatly for its incomparable honey aroma, and the melon was named "Hami melon" because it was the King Hami who sent it. Now its reputation has been spread abroad and Hami melon has gained its fame far and wide.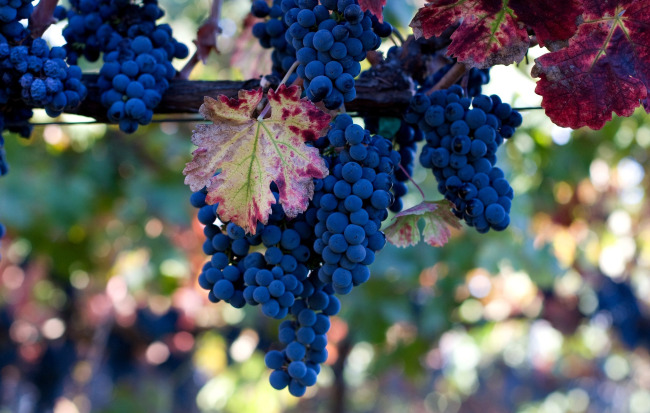 Except for melons, grapes are admired by people both at home and abroad, of which Turpan grapes are most famous. Turpan seedless raisings of white grapes are as natural green as fresh grapes. They are crystal-clear, crisp, and juicy, with thin skin, so they are the best present to friends and relatives. Every Year, the Turpan Grape Festival offers a chance to enjoy the delicious grapes and the ethnic customs as well.
Mainly produced in Kolar, there are more than 60 varieties of fragrant pears, of which Dangshan Pear(introduced from Dangshan, Anhui Province) and Qipan Pear (Yecheng County) have the better quality. However, Korla fragrant pears, reputed as "China's honey pears" and "prince of fruits," are famous since the ancient times. The fragrant pears, soft, tasty, and refreshing, have a honey aroma, a thin skin, tender flesh and beautiful color. They are not only loved by people in Xinjiang but also by people both in other provinces and abroad.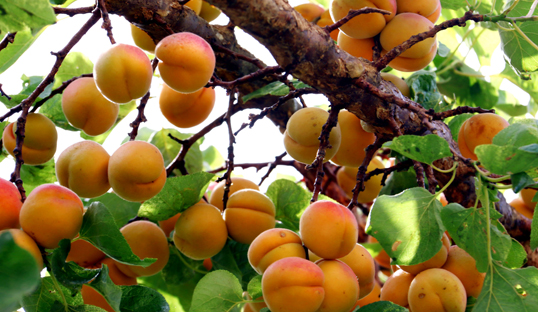 Almonds are one of the most treasured dried fruit of the Uygur people. It contains rich fat, protein, and vitamins. Therefore, it has high medicinal value and is used in 60% of traditional Uygur medicines. It is offered to treat visitors and the flowers and leaves of the trees are embroidered on the hats, clothes and buildings. Moreover, Xinjiang is one of China's earliest walnut-producing areas. Both southern and northern Xinjiang produce walnuts, especially the oases around the Tarim Basin. Hotan is the largest producing area. Big-sized and thin-skinned, Xinjiang walnuts contain high oil content, which are good for people's health.
Apart form those mentioned above, Hami dates, Yecheng pomegranates, Kashgar figs, Kucha flat peaches and mulberries are well-known special products in Xinjiang. With the development of advanced technology, people can enjoy the delicious melons and fruit all year round. The raisins, dried apricots and dried figs are best in quality. They are sold not only in Xinjiang but other regions and countries. Therefore, Xinjiang deserves its fame as "a home of melons and fruit".