As one of the ancient Silk Road sites in Xinjiang, where you can visit the well-preserved lakes, deserts, history and culture.
Bortala Mongolian Autonomous Prefecture:
Silver grasslands and a holy lake, high-end camping and rare salamanders from the dinosaur age - those are the things you can witness in Xinjiang.
Bortala Mongolian Autonomous Prefecture is located in the northwest of Xinjiang Uyghur Autonomous Region and bordering Kazakhstan, is taking advantage of its unique geographic resources to promote tourism.
In Bortala, people can experience all of Xinjiang's openness and peace in a nutshell. 
Holy and wild
Bortala, meaning "silver grassland" in Mongolian, it is situated at the west part of Junggar Basin and shares a 372-kilometre border with Kazakhstan to the north.
The region used to be a main communication centre on the Silk Road in ancient times and is a significant hub on the current Belt and Road.
Founded in 1954, the region has rich natural resources on its 27,200 square kilometres of land.
Sayram Lake
Sayram Lake, a 40-minute drive from Bole, the capital city in Bortala, is dubbed " The Last Tear of the Atlantic Ocean," as the warm and wet air from the west end of the continent stops here.
The lake is embraced by grass in the mountains at a 2,073-metres altitude, displays different shades of blue when people watch it from different positions, at different times or under different weather conditions.
As early as 3,800 years ago, there was human activity around the lake. It is considered a holy lake by ancient residents.
Nowadays, as one of the important landmark of Xinjiang, the lake is visited by more than a million tourists every year. The annual bicycle competition around Sayram can always attract participants and audience members from China and overseas. 
Ebinur Lake
Another iconic lake in Bortala, the Ebinur Lake in Jinghe county, is Xinjiang's biggest saltwater lake and is home to around 1 million birds.
Jinghe
Jinghe not only owns the treasure of water, but it also has the Mutetar Desert, the largest shifting desert in Junggar, with magnificent scenery. 
Wenquan County:
The entirety of small Wenquan County is a scenic spot itself as well. Wenquan, meaning hot spring in Chinese, it has been developing an ecological and relaxing type of tourism, using its geothermal resources and natural scenery.
It is also the home to Xinjiang salamanders, a species from the dinosaur age that only lives in a small area with an absolutely clean environment across the China-Kazakhstan border.
Moreover, the Kruger Camps, a camp with 15 wooden villas built in the mountain forests of Wenquan and newly opened in late May, has welcomed guests from around the world, including the US, who were all impressed by the stunning scenery.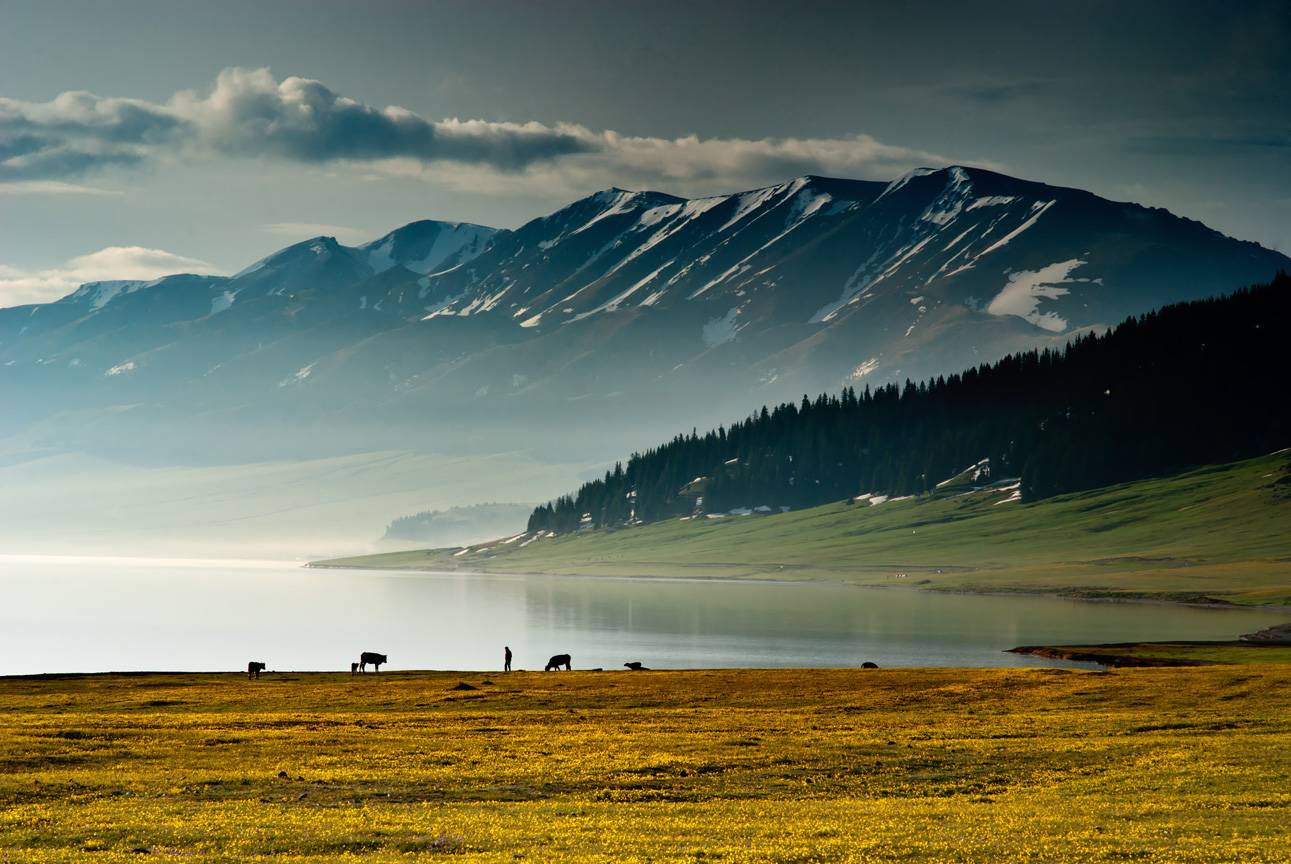 Xiaerxili Natural Reserve
The most mysterious but attractive spot in Bortala is the Xiaerxili Natural Reserve near the border between China and Kazakhstan.
It used to be a disputed region, but in 1998 both countries agreed it belonged to China. Nowadays it is an unpopulated area, and people can enter to view "the last virgin land" with permission. 
Mixed and harmonious
On Sailboat Square in the city centre, people gather to enjoy square dancing, like any other cities in China. But it's different in Bole because people dance to a Xinjiang-style of music - Uyghur, Kazakh and Mongolian folk songs.
Across the street was a noisy night market. More than 100 tables were surrounded by residents and tourists. People speaking in different Chinese dialects enjoyed BBQ, seafood, milk tea and Kawas, a popular local drink made from honey and hops.
Since thousands of years ago, camel teams carrying silk, jade or melons have been passing through this place. Eastern and Western cultures have long been communicating and blending in Bortala.
In 1771, the Mongolian clan Torghut decided to move back to China from the Volga region of Russia and was warmly welcomed by Emperor Kangxi. The clan was settled in an area in western Xinjiang that included Bortala.
In the 1760s, another clan, the Chahar, also settled down in Jinghe, Bortala under Emperor Qianlong's orders to protect the border.
In recent decades, people from different parts of China moved to Bortala to help construct the region.
Nowadays, Bortala has a population of 500,000, consisting of 35 ethnic groups, including Mongolian, Han, Hui, Uyghur and Kazakh. All the different groups living together creates a diverse and harmonious atmosphere in Bortala.