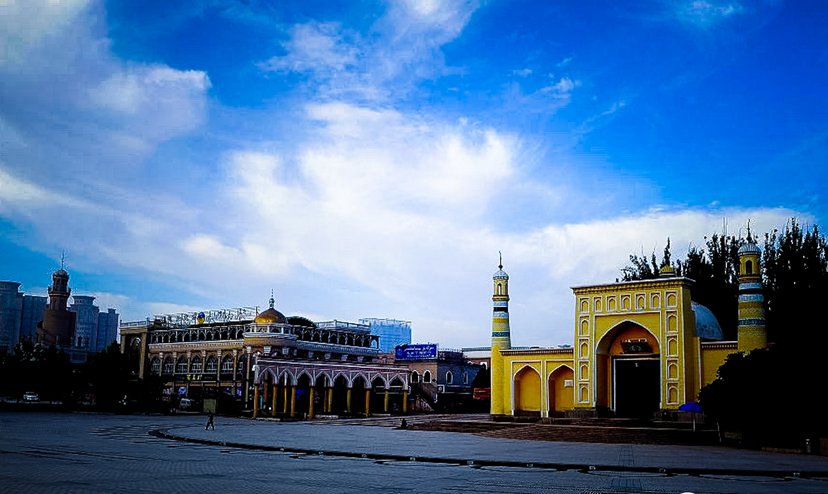 The Id Kah Mosque, a magnificent Islamic building at the center of Kashgar City, has a history of more than 500 years. The mosque, 140 meters long from south to north and 120 meters wide from east to west, covers an area of 16,800 square meters and consists of the Hall of Prayer, the Doctrine Teaching Hall, the Gate Tower, a pond and some other accessory structures. The Id Kah Mosque, a key provincial level historic site, faces the Id Kah Square.

The gate of the mosque, 4.3 meters wide and 4,7 meters high, links short wall on each side. Two ponds with limpid water is a bright mirror enclosed by the green poplars, endowing the mosque with a quiet elegance. There are 18 praying rooms for preaching and studying on each side of the 1.33 hectares garden in the mosque. The Hall of Prayer is on a high dais in the west end of the mosque, including inside hall, outside hall and entrance. 140 round columns with 7 meters high full of elaborate flower-pattern carvings that are mainly in green. Form a net work.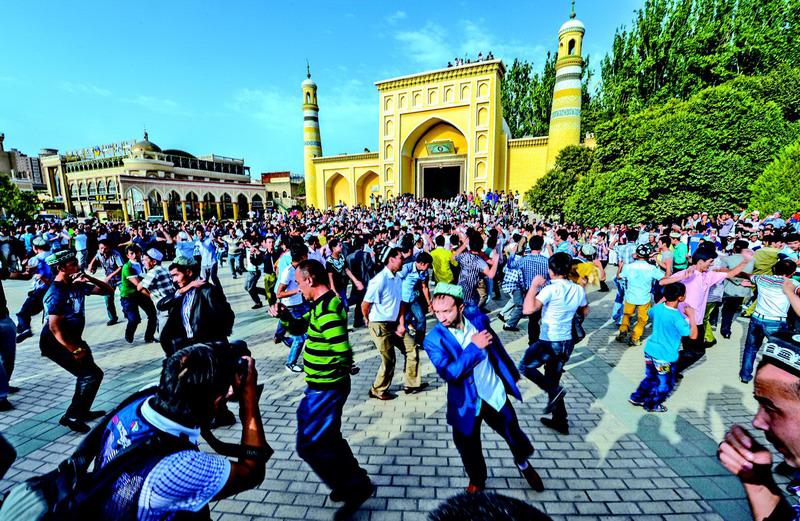 Every day, 2-3 thousands of worshippers come here to pray, and 6-7 thousands on Friday afternoons. On festivals the numbers can surge to 20,000-30,000. On the Corban at prayer time, the mosque, the square, the streets, and the roads all around are full of piously kneeling Muslims. The numbers soar to 100,000 worshippers at the highest time. It is in Kashgar that the spectacle can be expected.
Afterwards, all the people get together in the square, and the young men in their holiday-celebrating suits, to show their happiness, dance the Sama Dance with great enthusiasm to the cheerful drumbeats and music, showing no signs of exhaustion.
Ermin Tower is a column-shaped body with a standing pole as long as the tower in the hollow of it, which supports the spiral 72-step leading to the top, where is a dome-shaped observation chamber with windows in all four sides. Ascending the top and looking around , Turpan area will be in the sight of the climber. In 1957, it was listed as the key cultural relics under the protection site. The Ermin Tower has been restored in recent years and added a new square and the statue.