As one of the popular travel destinations in Xinjiang, stepping into Kashgar is like being transported into the mysterious Arabian Fairy Tales.
This far-flung city in Xinjiang is a must-see for its beautiful scenery and intoxicating culture. Miraculous, modern China peels away to reveal the arresting sights, sounds, fragrance and atmosphere of a 2,000-year-old Middle Eastern Town. Open-air markets hum with squawking livestock and the buzz of locals. Every so often, old mosques peep out from a labyrinth of the well-worn, humble homes and rouse the neighbourhood with calls prayer.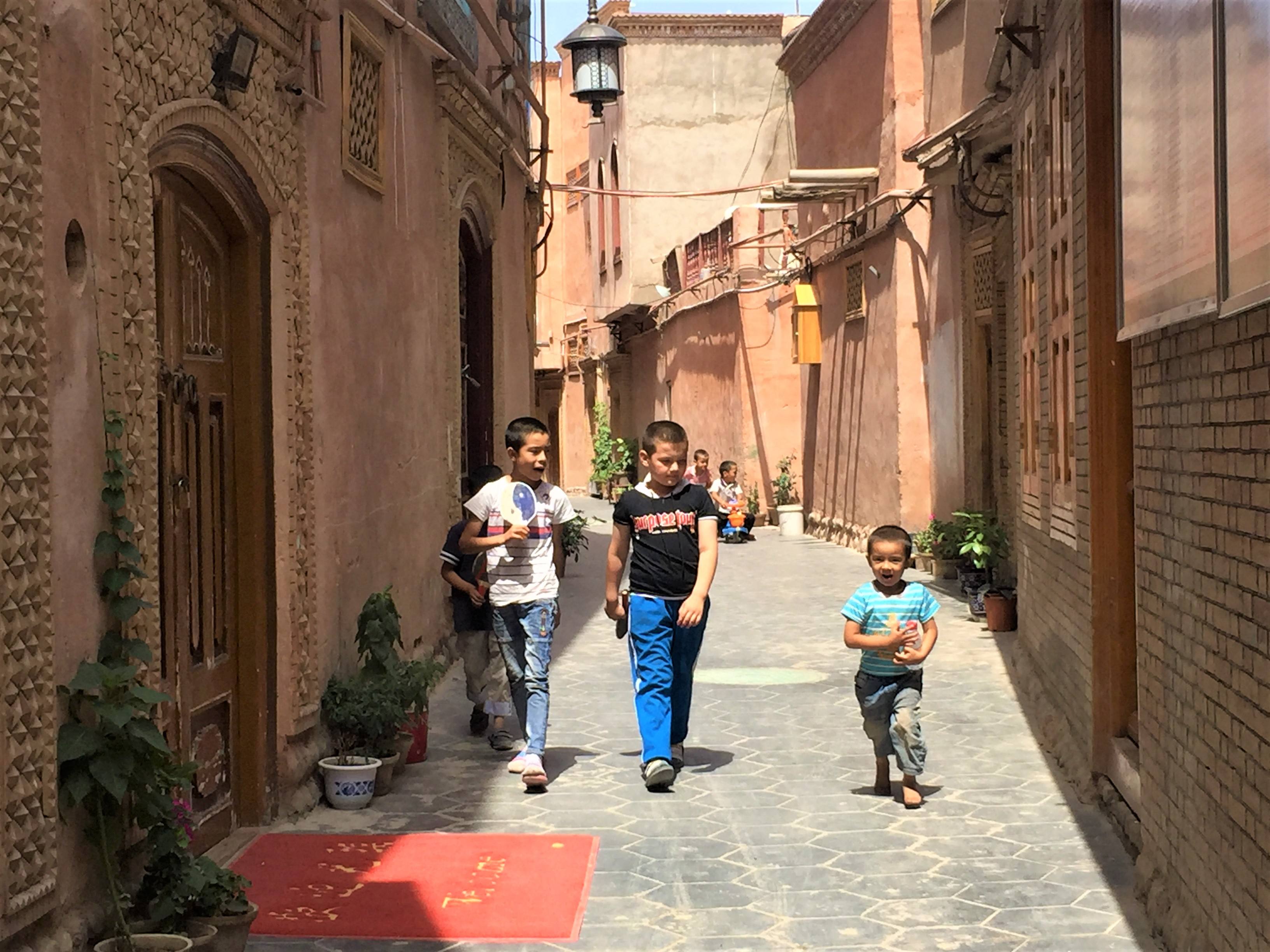 Kashgar Night Market:
You will never know the real Xinjiang if you've never been to Kashgar, and a journey to Kashgar is never complete without savouring its local specialities. As one of the best cities to sample authentic Xinjiang cuisine, Kashgar is noted for its diversified food culture.
Opposite the Id Kah Mosque in Kashgar's old town lies the Haan Bazaar. When the evening closes in, the twilight marks the beginning of a culinary adventure. The market draws in large crowds of locals and visitors to fulfil their inner foodie desires.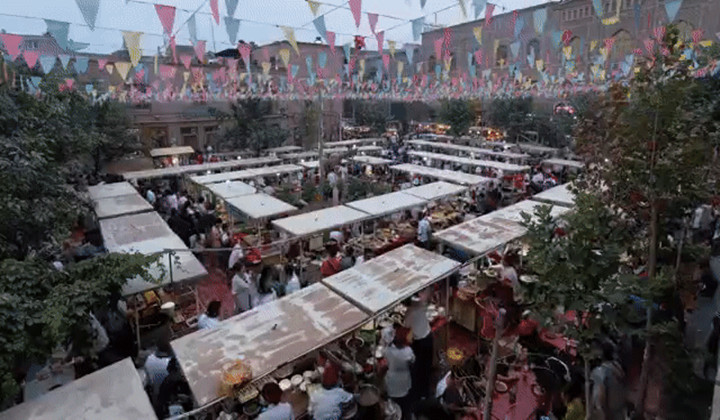 Here are some must-try dishes in Kashgar's food paradise:
Kebabs:
It's impossible to imagine the local diet without mutton and lamb. From smoke-grilled kebabs to whole roasted lambs, meat lovers simply can't resist the temptation. There are quite a few kebab stalls at the night market, filling the streets with lamb-laden curls of smoke.
Small pieces of lamb are grilled on skewers over charcoal with various spices sprinkled on them to add flavours. Visitors are drawn by the captivating smell from a distance. When they have their first bite, the tender and juicy meat create a lingering taste in their mouths.
Tip: Clean the tips of the skewers before eating.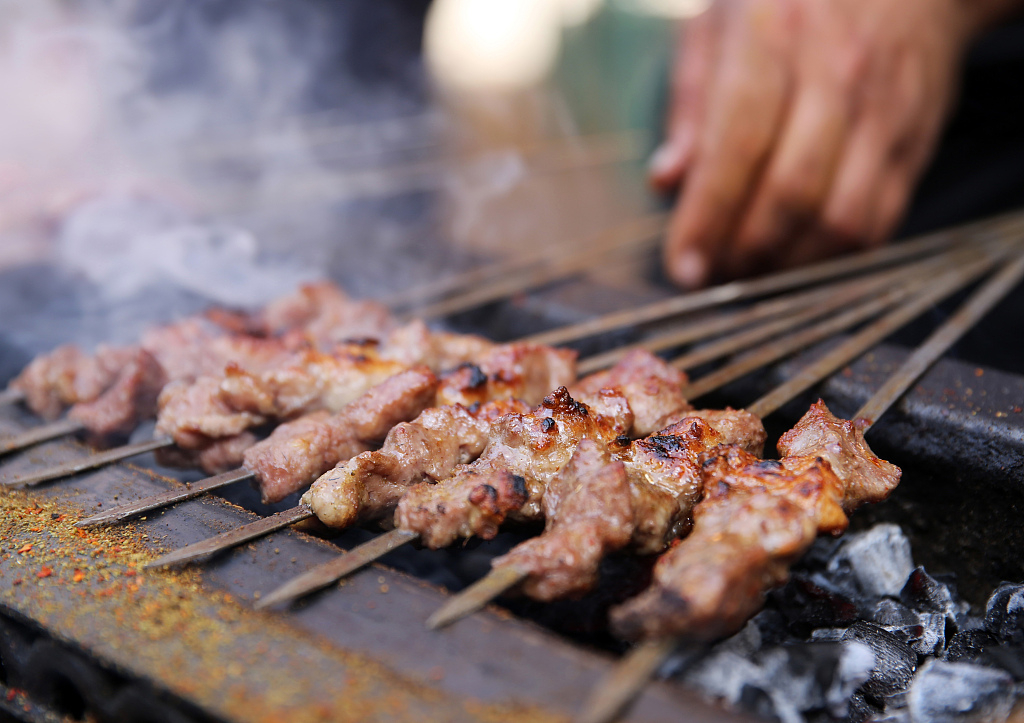 Naan:
Naan is a staple food for Uygurs. The bread is made from plain ingredients including flour, milk, salt and sugar, but it conjures up a host of wonderful sensations.
It comes in different sizes and shapes, typically round, with distinctive flavours. Grab a freshly-baked one, tear it off, and you'll find it surprisingly tasty compared with how it looks. The surface is slightly crispy and the texture inside is quite soft.
Don't underestimate the power of the humble-looking bread. These discs can last for a month or two. Many visitors can't help but bring some home when their journey ends.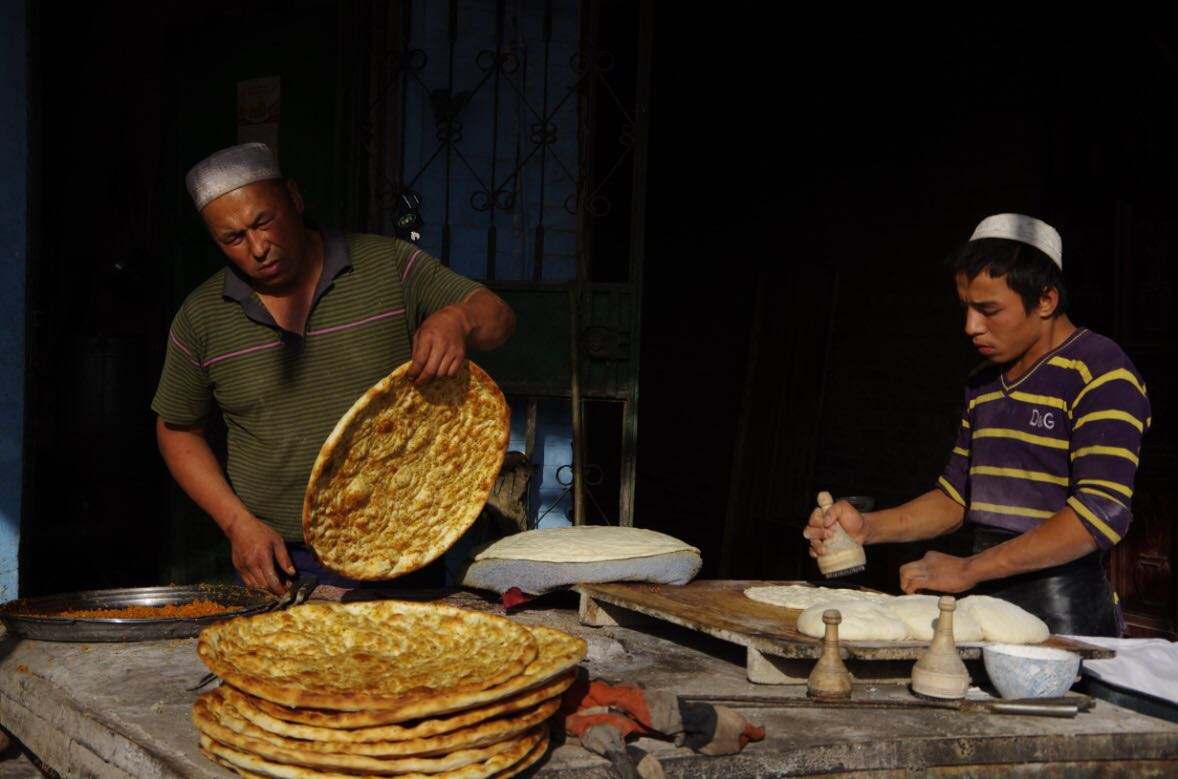 Dogh:
Natives call it 'Dogh' or 'Baobing' in Mandarin, it is a delicious mix of shaved ice, honey and yoghurt. There is nothing better than sweet and freezing dough as a summer treat or an after-meal dessert.
The large block of ice is often the centre of attention. The master shaves the ice off an ice block and tops it with yoghurt and honey. The ingredients are then tossed high in the air so that they mix together.
You might be interested in where the giant block of ice comes from. They are retrieved from frozen rivers running down the snow-capped mountains in winter. They are then stored in ice cellars to keep them from melting. When summer approaches, they are ready for numerous cups of refreshing iced yoghurt.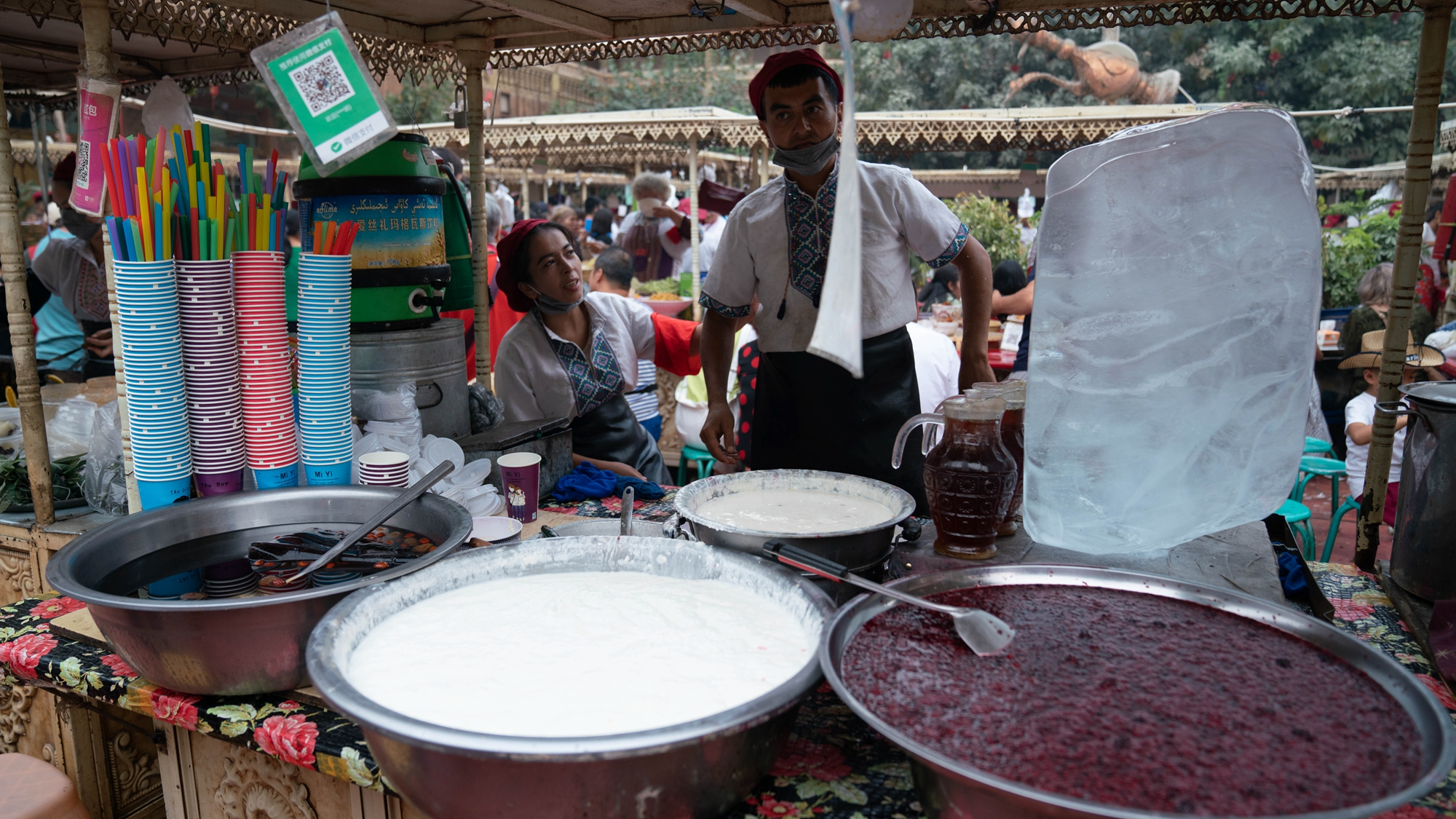 Opke Hessip:
Opke Hessip is a traditional snack favoured by locals. The mere sight of it stimulates the curiosity of many passersby.
Served with lamb lungs and rice-stuffed intestines in soup, it is something worth a try. The intestines are soft and the rice inside is glutinous.
It's recommended to spend a couple of nights in Kashgar to fully explore some of its local specialities at the night market. A walk through the bustling stalls brings you the authentic flavours of Kashgar.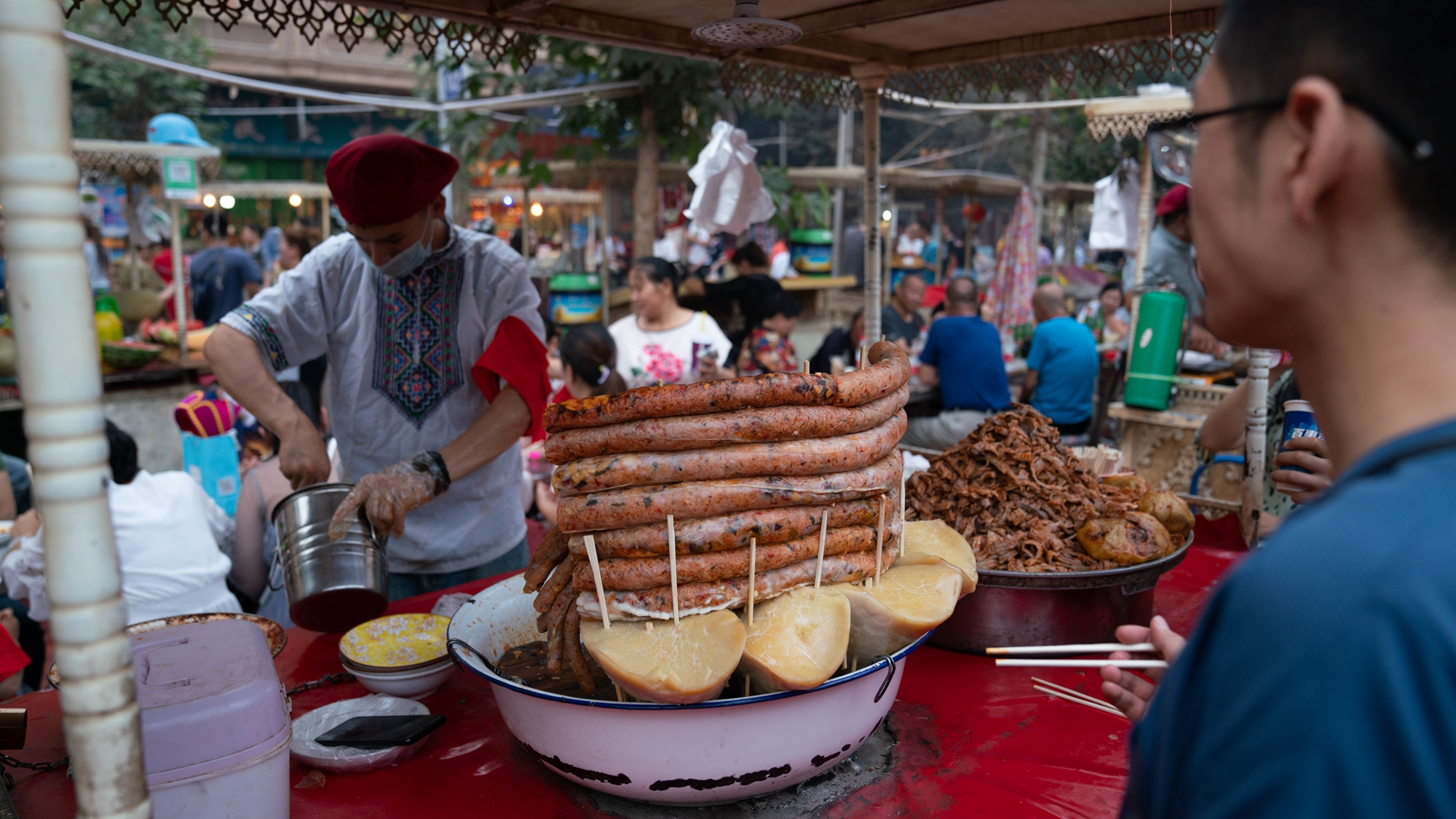 Tip: 
There is no need to bring cash as each food stall provides online payment, either via WeChat Pay or AliPay.