What are the basic requirements for getting a Chinese Visa?

The basic requirements for getting tourism Chinese Visa are the following:
1.Your original passport with at least 12 months of validity and two blank pages;
2.A black and white photocopy of the passport page with your photo, and of the pages that contain any past 3.Chinese Visas that you have obtained (only applicable if you have already been to China);
4.A recently-taken color passport photo (48mm x 33mm) with light background;
5.A photocopy of previous Chinese passports (only applicable to foreign citizens who were once Chinese citizens 6.and have obtained foreign citizenship);
7.Proof of legal status in the country where you're applying for the Visa, such as a resident permit (only applicable if you're applying for the Visa outside your country of citizenship);
8.An Application Form completely filled in, printed and signed ;
9.The Declaration printed and signed (only needed if you're applying through the CVASC);
10.A printed copy of the appointment receipt (only applicable if you're applying through the CVASC – you will be able to make an appointement directlly on CVASC's website).
11.An invitation letter issued by a relevant entity or individual in China. The invitation letter is needed if you're applying for a L Visa (unless you have proof of a hotel reservation for the whole duration of your stay in China).
Although normally the invitation letter can be in the form of a fax, photocopy or computer scanned printout, in some cases, you may be required to submit an original invitation, provide other supporting documents, or schedule an interview with the consular officer.
How long does it take to get a Chinese Visa?
If you have all the necessary documents and hold a passport with at least 12 months validity and two blank pages, it should take between two (if you apply for the express service) to four working days to get a Chinese Visa.
Note that the rush service (one business day) is only available in some countries (the US, for instance) and only for cases of extreme urgency, upon the approval of the Chinese Consular Office.
How much does a Chinese Visa cost?
The price varies from 30 to 140 USD depending on your nationality, the type of Visa, the country where you apply and the number of entries.
Usually it's cheaper for European people, whereas American people are usually required to pay the full fee of 140 USD.
Where can I get a Chinese Visa?
In many countries, including the UK, Australia, Canada and EU countries, you must apply through the CVASC (Chinese Visa Application Service Center).
However, if in your country there is no CVASC, you shall still apply at the Chinese Consular Office that serves your province. This is also the case of people living in USA.
If for some reason you don't want to, or you can't show up personally, you can use an agency to get your Chinese Visa. This will have a supplementary cost, but it may still be cheaper than the cost of the trip to the nearest CVASC or Chinese Consulate.
Since 2016, if you have a passport form one of the countries listed on this page, in some cases it is possible to get your Chinese visa directly online.
How do I read a Chinese Visa?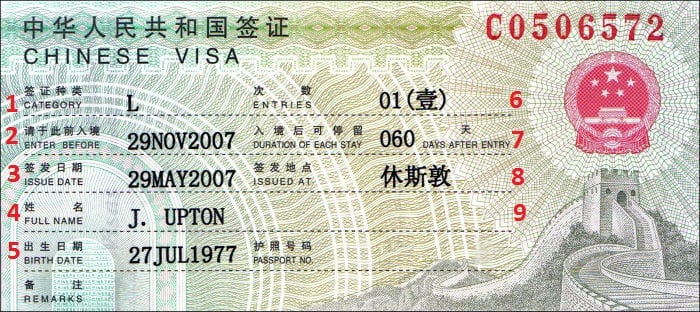 1. Visa Category: For instance, L Visa is a touristic Visa while Z Visa is a working Visa (see the table above for reading the explanations of each category);
2. Expiration Date: You must enter China before this date or the Visa will expire;
3. Issue Date: This is the date on which the Visa was released. As you can see, the Visa on the photo had a validity of six months (from 29 May to 29 November);
4. Full Name: Your full name;
5. Date of Birth: Your date of birth;
6. Number of Entries: The number of times that you can enter and exit China with the same Visa. "1" means that you have a single entry Visa; that is once you exit China the first time the Visa becomes invalid (going to Hong Kong or Macau counts as an exit); "2" means that you can entry and exit China twice before the Visa becomes invalid; "M" means that you can enter and exit China as many times as you want, as long as your Visa is still valid and you don't overstay it (see point 7);
7. Duration of Each Stay: The number of days that you can stay in China after each entry; if for instance you have a double entry Visa with duration of each stay equal to 30 days, you must exit China within 30 days after your first entry; afterwards you can enter China a second time (you must enter before the date of expiration) and you can stay for other 30 days. Notice that for Visas that require a Resident Permit (D, J1, Q1, S1, X1 and Z Visa), the duration is often 000. This means that you have 30 days starting from the date of entry to apply for your Resident Permit; if you fail to do so, the Visa will expire;
8. Place of Issue: The place where the Visa was issue;
9. Passport Number: Your passport number.